READ: Increasing Qualifications, Centering Equity: Experiences and Advice from Early Childhood Educators of Color
To further our shared commitment to maintaining and increasing diversity in the ECE workforce, while putting the voices of early childhood educators front and center, NAEYC, in collaboration with The Education Trust, is pleased to share the new report, Increasing Qualifications, Centering Equity: Experiences and Advice from Early Childhood Educators of Color. Drawn from focus groups with 50 early childhood educators of color in New Jersey, North Carolina, and Wisconsin, this report tells the story of their reactions to policy changes affecting their qualifications, their reflections on their experiences, and their recommendations to policymakers moving forward with increasing educational requirements for early childhood educators.
Read the complete report and the blog in NAEYC's Equity in Action blog series.
Use our digital toolkit to share the report with others.
Keep the conversation going by joining 

@NAEYC

 and 

@EdTust

 for a 

#EarlyEdCha

t with 

@MomsRising

 this Thursday, October 24 from 2:00 – 3:00 pm EST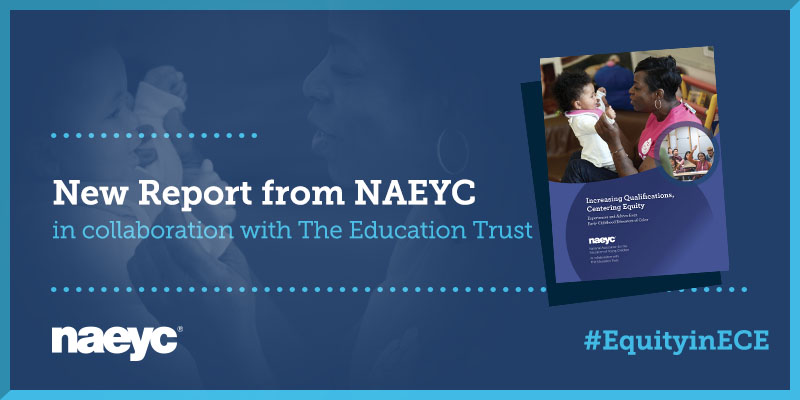 WRITE: Tell Congress to #FundChildCare
Don't back off now: elected officials need to keep hearing about how important it is for them to #FundChildCare as they try to navigate the challenges of getting to agreement on the FY 2020 appropriations bills! This toolkit is here to help you write and share messages with your Senators and Representatives online, in op-eds, and in person. Plus, now is a great time to use the templates in the toolkit to invite elected officials to visit your high-quality early childhood programs when they come back to your communities for Thanksgiving recess!
READ: Principles for Investing in High-Quality, Affordable Child Care
There are principles for increasing equitable access to high-quality, affordable child care that we all can share! Check out the 4 principles and the more than 25 organizations who signed on
here
!
WRITE: Share Your Feedback on the Draft Leveling of the Professional Standards and Competencies for Early Childhood Educators
What's the level of knowledge, skills, and competencies each person needs to master in her professional role in early childhood education? Public Draft #2 starts to lay that out – and your feedback is necessary to help get it right! The deadline to respond is November 8!
READ: Higher Education Act movement
In the midst of ongoing efforts to reauthorize the Higher Education Act, House Democrats have released their College Affordability Act. In keeping with some of our field's recommendations, this bill increases supports for early childhood education and educators, with actions such as expanding access to grants for educators working on their Associate's degrees; increasing funding for child care programs that serve student parents; and improving the public service loan forgiveness program. Over on the Senate side, Senator Alexander also introduced a package of proposals on higher education, called The Student Aid Improvement Act of 2019. While not oriented towards early childhood education, there are always opportunities to advance the field (and feel free to check out the full bill here)!
WRITE: #ProtectFamilies on Social Media and In Your Programs
Last week, a federal court blocked the implementation of the Public Charge regulation, preventing it from taking effect last week and for the foreseeable future while the lawsuit is decided. Thank you for your advocacy and for standing with us to #ProtectFamilies!
Share your thoughts on social media, and reach out to the families you work with to share the importance of continuing to enroll in programs that support their families' health and well-being.