NEED TO President's Budget Takeaways
Did child care get attention? Check. Did spending get cut for programs that support children and families such as Medicaid, housing, Pell grants, and child nutrition, and eliminated for programs like Preschool Development Grants and teacher education in Title II of the Every Student Succeeds Act? Also check.
Want more information? Read up on the budget and appropriations processes and terms here, so you can stay on top of what's happening, what it means, and how you can get involved.
What It Will Take
Speaking of getting involved, as the budget process turns to Congress, here's what you can do to help: Call your elected officials and say
As an advocate for child care and early learning, I hope you will continue to sustain and grow the important bipartisan investments Congress has made in child care.
I ask you to raise the caps and increase funding for the Child Care and Development Block Grant (CCDBG) by $5 billion over the FY19 level to help states build on their successes and expand access to high-quality child care and early learning.
[For your members in the House of Representatives]: You can show your support by joining Representative Katherine Clark and signing onto the Dear Colleague letter requesting the $5 billion increase in CCDBG for FY2020.
I also ask you to co-sponsor the Child Care for Working Families Act, which builds on the success of CCDBG and takes this investment to the next level to help our children, families, and economy thrive.
For more information on what the $5 billion increase would mean in your state, check out the new fact sheet from our partners at CLASP, which breaks down how many new dollars your state would receive and how many more children it could serve.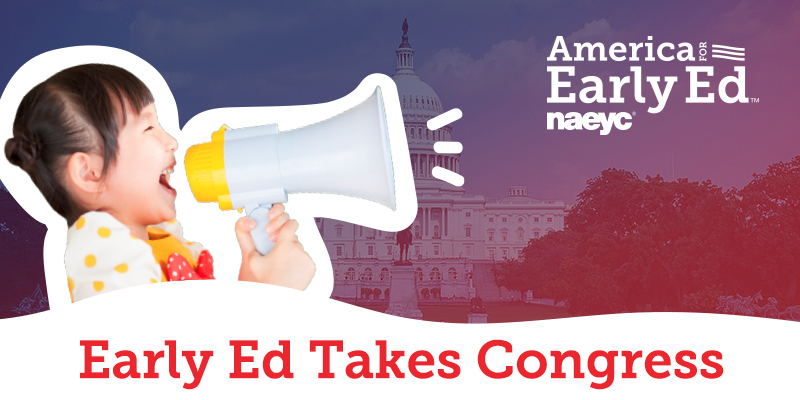 Early Ed Takes Congress
All of these messages were delivered from February 24-26, as we celebrated NAEYC's largest-ever Public Policy Forum with 357 early childhood educators, advocates, and allies! From Congress to the White House, and from bears and poems to meetings and press conferences, make sure you see what happened when Early Ed Took Congress! #PPF19 #ECEWins #ChildCare4All.
Take Action: NAEYC's Week of the Young Child
On May 5, ZERO TO THREE will be hosting its 4th Annual Strolling Thunder™ event and they are currently seeking families with stories to tell about their experiences with child care and/or paid leave, who are interested in traveling to Washington D.C. for the event. ZERO TO THREE will cover all travel costs for a parent, their children under three, and an adult travel companion to assist with child care. Please share with families in your networks, and make sure they are able to complete an interest form by Friday, February 7.

Twitter Takeover
Join us for a #Advocate4Kids Twitter Storm on Tuesday, March 19 at 2 pm ET to highlight the importance of advocacy, and think about why and how you advocate for kids, families, and educators.
We will also be joining the #EarlyEdChat on Thursday, March 21 at 2pm ET to talk about the Child Care and Dependent Tax Credit (CDCTC), and how improving it will help some families address the challenges of child care affordability, as part of a broad and comprehensive financing strategy that delivers on the promise of early learning.