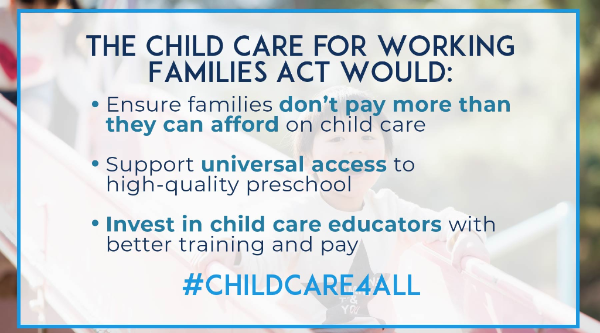 And you can join us!
Anytime on Tuesday, pick up the phone to call your elected officials and share the same messages from home that we're sharing in person. Here's what you can say:
As an advocate for child care and early learning, I hope you will continue to sustain and grow the important bipartisan investments Congress has made in child care.
I ask you to increase funding for the Child Care and Development Block Grant (CCDBG) by $5 billion over the FY19 level to help states build on their successes and expand access to high-quality child care and early learning.
I also ask you to co-sponsor the Child Care for Working Families Act, which builds on the success of CCDBG and takes this investment to the next level to address our nation's child care crisis.
You can also post on social media, following and using the hashtags #ChildCare4All, #ECEwins, and #PPF19. Make sure you tag @NAEYC and @SupportEarlyEd as well, and look for great pictures, and great fun as Early Ed Takes Congress!
Check it Out
Child care is everywhere! Along with the introduction of the Child Care for Working Families Act this week, we are thrilled to see child care and early learning garnering so much attention at the national level, with proposals like this one from Senator Warren helping to shine a light on the critical need for significant and sustained federal investments in high-quality early childhood education. We are looking forward to more bills, more proposals, and many more conversations with elected officials and candidates from both parties, at all levels of government—national, state, and local!
Plus: It's not only child care! Cleaner Classrooms and Rising Scores: With Tighter Oversight, Head Start Shows Gains (via the New York Times).
Go Beyond (the Beltway)
It's not just DC: AEYC Affiliates, members, and early childhood educators are making noise all over the country!
Power Up (the Profession)