The shutdown has been ended with a stopgap funding bill that gives Congress three weeks to figure out a deal. While they're hard at work, we will be too. Here are three things you can do right now on behalf of kids, families, and educators across the country:
1) Let's Go…Viral: Watch and Share for Child Care!
Have you watched the video? 
With Congress back up and running, now is a great time to share our stories and make sure your elected officials know how child care funding is making a difference across the country, and why they must do more to make quality, affordable child care a reality! Check out all the sample social media posts you can use to help your elected officials take notice!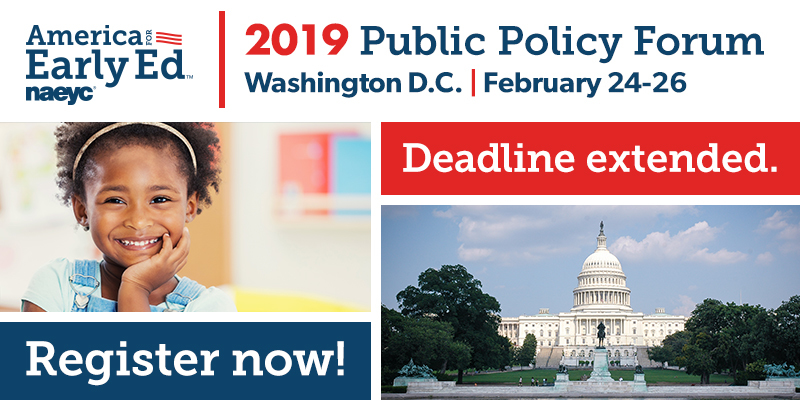 2) Let's Go…Big: Make This Public Policy Forum the Largest One Yet!
State teams of educators and advocates are coming together—but they won't be complete without you! Make sure you register this week to join hundreds of NAEYC members in Washington DC and on Capitol Hill for the 2019 Public Policy Forum from February 24 – 26.
3) Let's Go…Local: Get Involved with Your Affiliate!
Affiliates and partners are creating tons of opportunities for you to get involved right where you live. Check out just a few options, and find your Affiliate for more:
And, if you're passionate about diversity and equity and bringing your local leadership experience to the national level, consider applying for the NAEYC Affiliate Advisory Board!
Finally, we can't let you go without links to these great new reports and resources from our partners: